Registration » Conference Venue
» Columbus, Ohio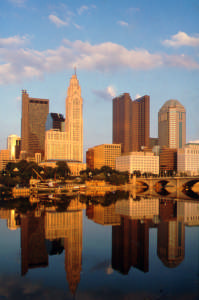 Columbus is the capital of the state of Ohio. Named for explorer Christopher Columbus, the city was founded in 1812 at the confluence of the Scioto and Olentangy rivers, near the geographic center of the state. It was named the state capital in 1816. The city has a diverse economy based on education, insurance, healthcare, retail, and technology. Acknowledged by Money Magazine as the 8th best large city in the U.S. to inhabit, it is also recognized as an emerging global city. In 2006 Columbus was ranked the country's 32nd largest metropolitan area.
When it comes to great cities, many are better than Columbus at one thing. But not many are as good as Columbus is at everything. From exceptional schools to outstanding healthcare, great restaurants to diverse neighborhoods, major league sports to first-rate arts and entertainment, Columbus has it all. It is home to 20 universities (100,000 students), including The Ohio State University and the OSU Buckeyes. The Columbus Region is also home to 20 theatre companies, 102 art galleries, and 18 museums. It has a world-class symphony, ballet, and opera, and all sorts of diverse festivals and cultural events. The Columbus Zoo and Aquarium is one of the nation's best zoos, stretching for 90 acres and home to more than 700 wildlife species. For sports fans, Columbus has NHL Hockey, Major League Soccer, Arena Football, a PGA Tour Event, a beloved minor-league baseball team, and, of course, Ohio State athletics. Add to that the great restaurants, amazing shopping, unique cultural districts and an energizing nightlife, and you can see why we are proud to host IEEE VisWeek 2008 in Columbus, Ohio.
The conference venue will be located just north of downtown Columbus at the Hyatt Regency, near the Arena district, the bustling Short North Arts District, and within walking distance to the Brewery District and historical and eclectic German Village, providing attendees many opportunities to co-mingle.
IEEE VisWeek 2008 will be held October 19-24, 2008, at the Hyatt Regency in Columbus, Ohio. To book your hotel reservation, please click here.
Hyatt Regency Columbus
At Greater Columbus Convention Center
350 North High Street
Columbus, OH 43215 USA
Telephone: 614.463.1234
http://columbusregency.hyatt.com/hyatt/hotels/index.jsp