Monday, October 12
» Using Stories To Understand Patterns
Andrew Glassner
» Abstract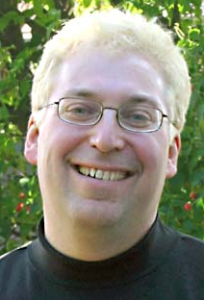 People easily find patterns everywhere, from familiar faces in pancakes to voices on the wind and tigers in the clouds. We see patterns behind the migration of birds and which houses get bought and sold in a neighborhood.
The patterns we perceive are usually in a context, and frequently that context is a story. The tendency to see stories is another built-in human quality that has served us well, from avoiding hungry predators to building loving relationships. Building a narrative around a set of observed patterns is a natural and powerful tool for understanding, because the familiar nature of narrative gives our minds a structure for entering the patterns imaginatively. The story we tell gives us a framework for examining and manipulating the patterns, helping us understand their origins and meanings. Narrative offers a scaffolding from which we can arrange and re-arrange the component pieces of an idea, but still keep track of how the pieces hold together.
In this talk I'll summarize the basic elements of traditional Western narrative, from character design to plot dynamics. I hope to encourage the idea that we can consciously use this powerful, innate facility to better understand and work with the increasingly complex phenomena around us.
» Bio
Dr. Andrew Glassner is a writer-director, and a consultant in story structure, interactive fiction, and computer graphics. He started working in 3D computer graphics in 1978, and has carried out research at the NYIT Computer Graphics Lab, the IBM TJ Watson Research Lab, the Delft University of Technology, Bell Communications Research, Xerox PARC, and Microsoft Research. He has served professionally as Papers Chair for SIGGRAPH '94, Creator of the Sketches venue at SIGGRAPH, Founding Editor of the Journal of Graphics Tools, and Editor-in-Chief of ACM Transactions on Graphics. Glassner wrote and directed the short animated film "Chicken Crossing," which premiered at the SIGGRAPH '96 Electronic Theatre, and wrote and directed the short film "Making Memories". He designed the highly participatory Internet game "Dead Air" for The Microsoft Network, where he wrote and directed the live-action pilot episode. A popular speaker, Glassner has delivered invited addresses to groups around the world on topics ranging from computer graphics to storytelling. He is also a well-known writer, and has published numerous technical papers and books on topics ranging from 3D modeling, rendering, and animation to digital sound synthesis and interactive storytelling. Glassner created and edited the popular Graphics Gems series, which has spawned a range of related books series. He wrote the two-volume text Principles of Digital Image Synthesis that covers rendering concepts from physiology to physics. His books Andrew Glassner's Notebook, Andrew Glassner's Other Notebook, and Morphs, Mallards, and Montages collect his regular columns that appeared over nine years of IEEE Computer Graphics & Applications. His book Interactive Storytelling brings together lessons from computer gaming's recent past and offers suggestions for new ways to tell stories using today's media. Glassner holds a PhD in Computer Science from The University of North Carolina at Chapel Hill. He is now a full-time writer-director, and a consultant in storytelling and interactive fiction to the computer game and online entertainment industries. He is a Voting Member of the Academy of Television Arts and Sciences. In his spare time, Andrew paints, plays jazz piano, and hikes.