Atlantic City, New Jersey
Atlantic City, New Jersey, is a seaside resort community famous for its boardwalk (the world's longest at over 4 miles), its sandy beaches, and its spectacular views of the Atlantic Ocean.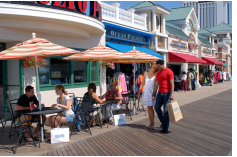 Other sources of attractions include an abundance of shopping centers, nightlife, shows, sporting events, fishing, boating, family fun, and finally, casino gambling. Many have (unknowingly) already traveled through this area, possibly even bought, lost or sold property there: Atlantic City has served as the inspiration for the board game Monopoly™ -- in the US versions of the game all properties are named after locations in (or near) Atlantic City.
The city was incorporated in 1854, the same year in which train service began, linking this remote parcel of land with Philadelphia.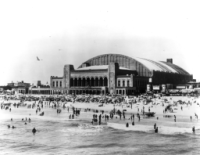 Atlantic City became a popular beach destination because of its proximity to Philadelphia. The first boardwalk was built in 1870, along a portion of the beach to help hotel owners keep sand out of their lobbies. The idea caught on, and the boardwalk was expanded and modified several times in the following years. Furthermore, Atlantic City also boasted the world's first Big Wheel (1892), the first color postcards (1893), and the first Miss America Beauty Pageant (1921-2006).
Ocean Pier, the world's first oceanside amusement pier, was built in Atlantic City in 1882. Other famous piers included the Steel Pier, opened in 1898, which once billed itself as "The Showplace of the Nation." The Lonely Planet Travel Guide. calls a trip to Atlantic City "worth for anyone interested in a truly complex American snapshot." Others have called it "America's Favorite Playground." This October 10-16, we add a new spark to this great excitement: IEEE VisWeek 2009.
Click here for suggestions on getting to Atlantic City.
The conference will take place at Bally's Hotel which is located right at the oceanfront, alongside the boardwalk. This unique location creates a relaxing atmosphere, providing attendees many opportunities to co-mingle. Apart from Bally's own numerous guest amenities, a great variety of other venues and restaurants are spread nearby.
Click here for reservations.
Note: This link guaranteed to work only under Internet Explorer. It may work under some versions of Firefox. Users of Safari and other "minority" browsers may need to find alternate methods of access. IEEE VisWeek 2009 regrets the inconvenience.
Conference registration for IEEE VisWeek 2009 will open soon. Click here for more information.