Salt Lake City is Utah's capital and gateway to the state's renowned ski resorts, scenic national parks and recreational areas. Salt Lake is a well-known ski destination, having hosted the 2002 Olympic Winter Games. Although the Olympics are over, you can still enjoy a run on some of the same trails used in competition by the Olympic athletes! At the Utah Winter Sports Park you can even ride the bobsled and luge track, and imagine yourself as a world-class competitor.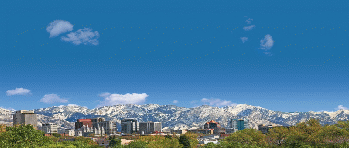 Mountain vistas with snow-capped peaks and seven year-round resorts within an hour's drive from the city's international airport (and four more a little more than an hour's drive) provide non-stop recreation. In the winter, locals and visitors alike flock to the destination resorts to ski and snowboard. Nearby resorts include Alta, Brighton, The Canyons, Deer Valley, Park City Mountain Resort, Snowbird, and Solitude. A visit to these or any other Utah resort will lead you to discover that the saying is true - Utah really does boast of the Greatest Snow on Earth. In the summer, the same resorts welcome visitors seeking outdoor adventure or pampering. The resorts offer splendid lodging, outdoor dining, fields lush with wild flowers and more hiking and mountain biking than you could possibly cover over just one visit.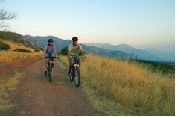 But Salt Lake is about more than snow and winter adventures. You'll find a large and growing lodging base, endless shopping, wonderful dining, symphony, opera, ballet, museums, professional sports teams and the University of Utah - and Salt Lake is also the gateway to 10 national parks within a day's drive.
Salt Lake City's proximity to mountains, canyons, and deserts makes an excellen t location for lots of outdoor activities, including hiking and bicycling. For more on local cycling see: http://www.sci.utah.edu/join/272-rides.html.
Many visitors first come to Salt Lake on business. Salt Lake City has quickly become one of the nation's premier cities for technological development. Salt Lake City's robust central business district includes the Salt Palace Convention Center, Gallivan Plaza, Clark Planetarium and the Romanesque-styled Salt Lake City and County Building.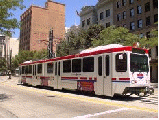 Getting around town is easy, with the help of a well-run mass-transit system. Buses and the TRAX light-rail system run regularly, to all major destinations within the Salt Lake valley. For more information on getting to or around Salt Lake City, click here.
The Conference venue is the Grand America Hotel, located in downtown Salt Lake City, close to TRAX and a little over 7 miles from the Salt Lake City International Airport.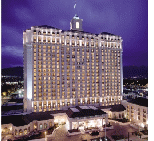 The Grand America is one of Salt Lake City's premier hotels. From the hotel's website: "Built with the allure of Old World craftsmanship, our hotel offers charm and hospitality with every modern convenience at your fingertips. Designed as a European hotel of American scale, we incorporate exquisite details throughout: chandeliers from Murano and Milan, French cherry-wood furnishings, English wool carpeting, African Anegre wood and Italian marble." For reservations, click here.
(Information courtesy of the Salt Lake Convention and Visitors Bureau)