Minneapolis, Minnesota
Visualization 2005 will be held at the Hilton Minneapolis in Minneapolis, Minnesota, October 23-28, 2005. (Special Vis2005 rate: $135 per single/double room). Click here to make your reservation.

The Twin Cities of Minneapolis and St. Paul lie along the Mississippi River. From the night clubs of the Warehouse District to the Depot to the many theaters, night time excitement can be found for anyone. There are also many parks and nature preserves right within the metro area featuring lakes, rivers and beautiful waterfalls.
For convenient travel, try the new Light Rail Transit System that connects the airport, Metrodome, Downtown and the Mall of America. The Twin Cities have many museums including the Walker Art Center, the Minneapolis Institute of Arts, and the Science Museum of Minnesota.  The Twin Cities are also home to the Minnesota Orchestra and Ordway Center.
---
Transportation and Travel Directions1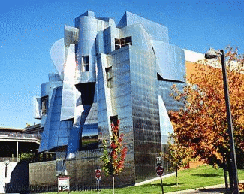 Minneapolis is served by the Minneapolis-St. Paul International Airport (Airport Code MSP). A number of airlines serve Minneapolis including Northwest, SunCountry, and many others. Most flights arrive at the Lindbergh (main) terminal; SunCountry, Midwest and other charter flights arrive at the smaller Humphrey terminal. Transportation between terminals is free and convenient. For flight information, visit www.mspairport.com.
There are several options for traveling from Minneapolis-St. Paul International Airport to downtown Minneapolis (click here for map of downtown in pdf format). Click here for Ground Transportation Information.
The Tram Level information booth is staffed seven days a week from 7 a.m. to 11:30 p.m. Staff provides information, maps, directions and other assistance to travelers. Travelers may also obtain wheelchairs from the information booth.
Light Rail Service at MSP.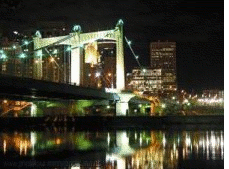 Light rail service to and from the airport is now available. The light rail stop closest to the hotel is the Nicollet Mall stop. Exit the train at 5th and Marquette and walk to the hotel 5 blocks south, at 10th and Marquette. Alternatively, use your Light Rail ticket to take a bus on Nicollet Mall to Marquette. Trains stop at both the Lindbergh and Humphrey terminals and connect travelers to 15 other destinations, including downtown Minneapolis to the north and the Mall of America to the south. Trains run between the terminals every 7 to 8 minutes during peak hours and every 10 to 15 minutes at other times of the day. There is no charge for light rail travel between Minneapolis-St. Paul International Airport's two terminals. Fares for travel to other locations from the airport are $1.75 during rush hours (Monday through Friday, 6 a.m. to 9 a.m. and 3 p.m. to 6:30 p.m.) and $1.25 at other times. A six-hour pass is available for $3 and an unlimited-ride day pass for $6. Tickets are sold at vending kiosks at the rail stations. For more information, visit the Metropolitan Council's Web site, www.metrotransit.org/rail or pick up a Light Rail map at the information desk at the airport. The Lindbergh Terminal Light Rail station entrance is located near the Transit Center, between the Blue and Red Parking ramps. From the Lindbergh Terminal tram level, (two floors below the Ticketing Lobby), take the automated Hub Tram toward the Transit Center. When you exit the tram, follow the signs to the light rail station, located 70 feet underground. The Humphrey Terminal Light Rail station is located outside of the terminal building. A covered walkway connects the station located at 34th Avenue and 72nd Street, to the Humphrey parking facility, and to the terminal building.
Major car rental companies. Rental car companies have phones and touch screen information kiosks at the Lindbergh Terminal on the Baggage Claim Level opposite baggage carousels 2, 5 and 10. The rental car counters are located in the Hub building located between the Blue and Red parking ramps, on Levels 1-3. Passengers can take the underground tram to go between the Lindbergh Terminal and the Hub building.
Parking at Hilton Minneapolis. The hotel self-parking rate is $12 per day; valet parking rate is $20 per day.
SuperShuttle shared-ride, door-to-door service. Travelers wishing to take a van to the hotel can gain access to those services through the Lindbergh Terminal's Tram Level. The cost is about $15.
Bus service. Metro Transit provides bus service to the Metropolitan Twin Cities area. Buses are accessible at the airport's new Transit Center. You can reach the Transit Center from the Red and Blue parking ramps or by taking the Hub Tram from the Lindbergh Terminal's Tram Level. For a complete list of shuttle companies, visit click here.
Taxicabs and limousines. Taxis are available at the Lindbergh and Humphrey Terminals. Taxi service at the Lindbergh Terminal is accessible via the Tram Level. Signs direct passengers one level up to the cab starter booth, where airport staff will assist passengers obtaining a taxi. At the Humphrey Terminal, taxi service is available at the Humphrey Ground Transportation Center which is located in the Humphrey Parking ramp on Level 1.
Downtown Minneapolis is approximately 16 miles from the airport, with fares averaging $25.00. All taxi fares are metered and include a $2.25 trip fee which allows drivers to recoup airport permit fees.
---
Hotels
Reservations for other hotels in the area may be booked directly at the Convention Bureau web site.
---
Hotels Within 0.8 Miles From the Hilton Minneapolis

Holiday Inn Express Hotel & Suites
225 South 11th Street
Minneapolis, MN 55403
888-465-4329
612-341-3300
The Marquette
7th Street and Marquette Avenue
Minneapolis, MN 55402
800-328-4752
612-376-7452
Hyatt Regency Minneapolis
1300 Nicollet Avenue
Minneapolis, MN 55403
800-233-1234
612-370-1234
Marriott Minneapolis City Center
30 S 7th Street
Minneapolis, MN 55402
800-228-9290
612-349-4000
Graves 601 Hotel
601 1st Avenue N
Minneapolis, MN 55403
612-677-1100
Courtyard by Marriott Downtown Minneapolis at the Depot
225 3rd Avenue S
Minneapolis, MN 55401
800-228-9290
612-375-1700
---
Other Hotels in the Area

Doubletree Guest Suites Minneapolis
1101 LaSalle Avenue
Minneapolis, MN 55403
800-222-8733
612-332-6800
Millennium Hotel Minneapolis
1313 Nicollet Avenue
Minneapolis, MN 55403
800-522-8856
612-359-2235
Grand Hotel Minneapolis
615 Second Avenue S
Minneapolis, MN 55402
866-843-4726
612-288-8888
Embassy Suites Minneapolis Downtown
425 S 7th Street
Minneapolis, MN 55415
800-EMBASSY
612-333-3111
TownePlace Suites Minneapolis Downtown by Marriott
525 2nd Street N
Minneapolis, MN 55401
800-228-9290
612-340-1000
Four Points by Sheraton Minneapolis North
1330 Industrial Boulevard
Minneapolis, MN 55413
800-325-3535
612-331-1900
Residence Inn by Marriott
45 S 8th Street
Minneapolis, MN 55402
800-228-9290
612-677-1000
Radisson Plaza Hotel Minneapolis
35 S 7th Street
Minneapolis, MN 55402
800-333-3333
612-339-4900
Best Western Normandy Inn Downtown
405 S 8th Street
Minneapolis, MN 55404
800-372-3131
612-370-1400
Ramada Inn Downtown
41 N 10th Street
Minneapolis, MN 55403
800-423-4100
612-339-9311
Residence Inn Minneapolis at the Depot by Marriott
425 S 2nd Street
Minneapolis, MN 55401
800-228-9290
612-340-1300
Radisson Metrodome
615 Washington Avenue SE
Minneapolis, MN 55414
800-822-6757
612-379-8888
Doubletree Minneapolis Park Place Hotel
1500 Park Place Boulevard
Minneapolis, MN 55416
800-222-8733
952-542-8600
---
See also: http://www.exploreminnesota.com/destinations/region.cfm?oid=4646

Photos courtesy of Chris Gregerson, Phototour of Minneapolis.
1Transportation and Travel Directions courtesy of the Acoustical Society of America.